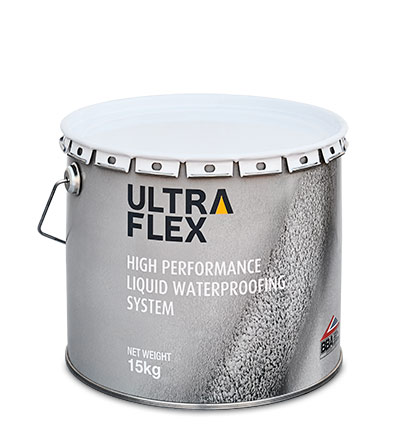 Apply at an ambient temperature of 2–35 °C.
   Ensure that the treated surface is clean and dry.
   Finishing edges (lips, trims) must be attached to the substrate before applying ULTRAFLEX®.
   ULTRAFLEX® is designed for direct finishing.
   Mix well before use.
   Apply ULTRAFLEX® directly from the tin onto the surface to be treated using a solvent-resistant roller.
   Apply the first coat of ULTRAFLEX®.
   Then place the ULTRAFLEX® Matting, positioning it with the aid of a roller.
   Finally, apply the second coat of ULTRAFLEX® and make sure the matting is completely saturated.
Colors:

Copper Brown | Traffic Grey
Ready to use straight from the tin with a solvent-resistant roller.
 The two-coat wet-on-wet application system with ULTRAFLEX® Matting makes for quick, straightforward treatment.
It can even be applied all year round, thanks to its moisture-curing technology. Fully walkable.
Can be employed with multiple finishings.
Immediately rainproof.
Produces a continuous, waterproof membrane with a complete seal that adheres to the surface. Totally seamless.
Freshly poured concrete must be allowed to dry for 28 days before applying ULTRAFLEX®.
Excellent adherence to a range of surfaces: concrete, ceramic, PVC, brick, wood, metals, bitumen membranes, and so on.
EPDM rubber and TPO surfaces should be pretested for compatibility by applying a test patch.
Do not use silicones. Always use polyurethane or MS polymer putties (ULTRAFLEX® A&S).