TIXAL
For vertical
or sloped surfaces
Tixal is a polymeric thickener, it has been especially developed as a liquid additive for the polyreinforcement for the polyurethane liquid membrane UltraFlex.
Ensuring minimum thickness urethane liquid membrane ULTRAFLEX, to use on vertical or sloped surfaces, giving thixotropic properties.
TIXAL prevents the membrane from sagging on vertical or steeply inclined surfaces, seals supports with high porosity and has properties that make it excellent for working on difficult singular points or complicated execution.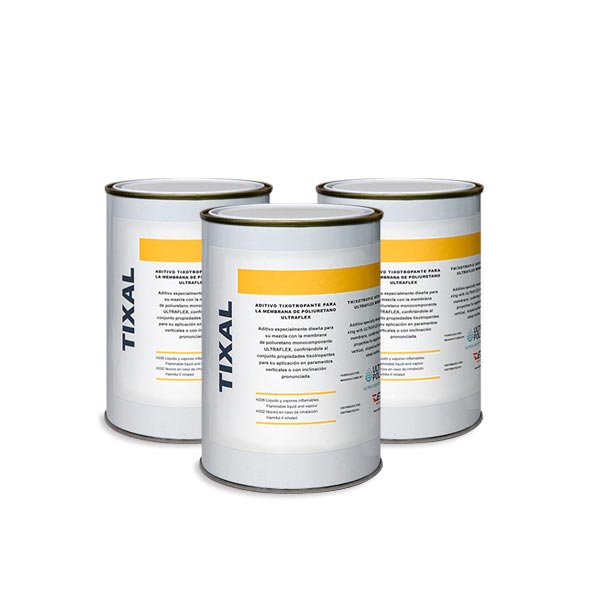 General and Technical Characteristics
APPLICATION METHOD
Add Tixal in the proportion required (maximum 500 ml per 15 kg of ULTRAFLEX) in the drum of the
The multidirectional interlacing of the fibers provides better resistance to tensions in all directions
membrane mix continuously until a homogeneous product is achieved apply the mixture by short
while it increases the tensile strenght of the system.
hair solvent resistant roller if the environmental temperature is lower than 5 oC , heat before mix with
It contributes to the compensation of possible deficiencies in the support preparation.
ULTRAFLEX.
Features
Packaging:
Metal tins 1l.
Shelf life
12 months at temperatures between 5°C and 35°C, provided it is stored in a dry place.
HANDLING
These safety recommendations for handling, are necessary both for the implementation process as well in the pre-and post, on exposure to the loading machinery.
· Respiratory Protection: When handling or spraying use an air purifying respirator
·Skin protection:Use rubber gloves, remove immediately after contamination. Wear clean body cov- eting. Whas thoroughly with soap and water after work and before eating, drinking or smoking.
· Eyes/Face: Wear safety goggles to prevent splashing and exposure to particles in air.
· The generation of waste should be avoided or minimized. Incinerate under controlled conditions in accordance with local laws and national regulations.
Consult the material and product safety data sheet (MSDS), or contact our technical department.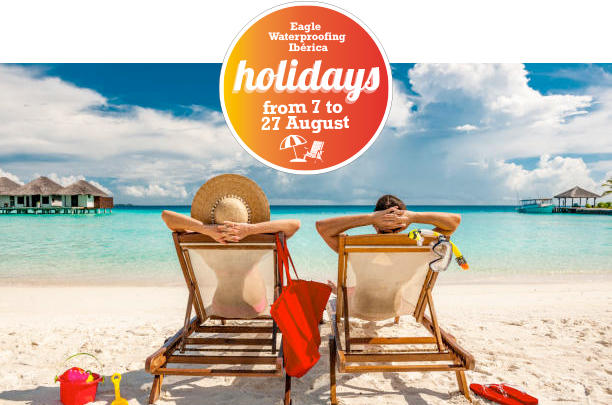 Eagle Waterproofing Iberica will close for holidays from 7th to 27th August. The last day to receive your orders to be shipped before vacation will be Monday, 31st July. Orders received during the closure will be
+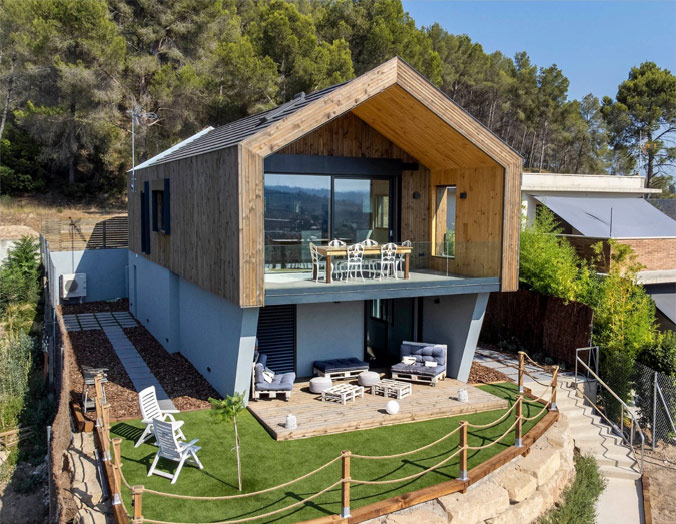 The Ultraflex system, developed by the Eagle Group, has been specially designed to withstand the contractions and expansions of wooden constructions. For this reason, Ultraflex is the ideal ally for the waterproofing of roofs in wooden PassivHaus
+
Fixing a leak with Aquapol is really quite simple: it covers the crack easily and it can be applied in the rain. Aquapol is an instant waterproof coating made with wax and reinforced with fibres that provides
+