High-Performance Liquid Waterproofing System. Ultraflex
EAGLE GROUP WATERPROOFING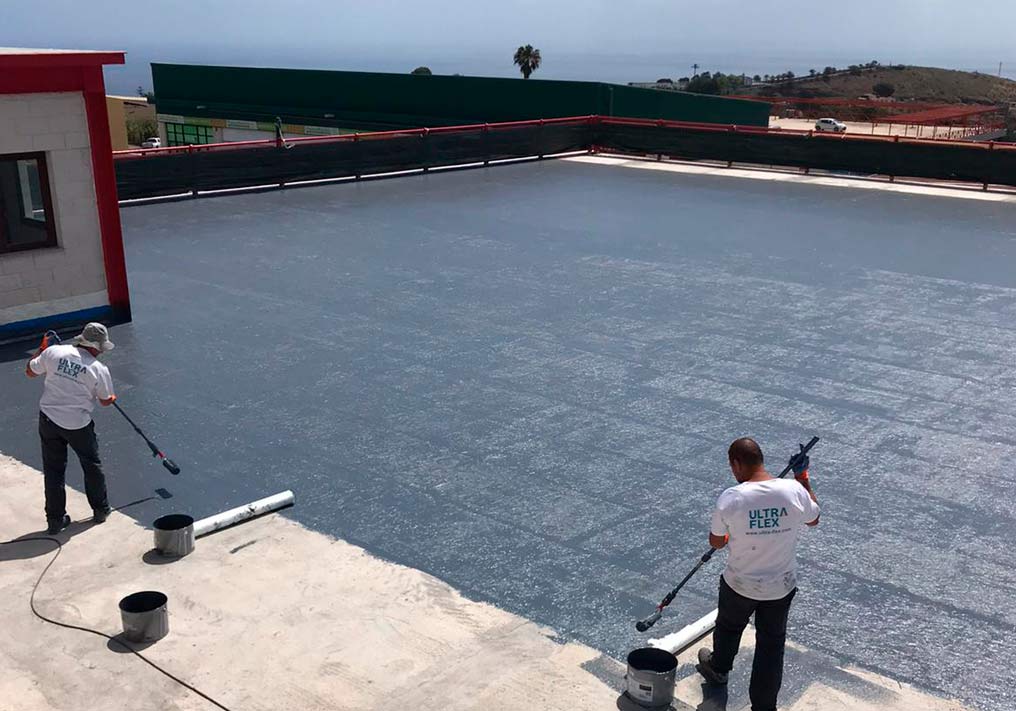 No need for priming? Are you sure!?
Priming is generally used to improve the bonding and smooth out the support surface (when uneven) and absorption (for porous surfaces).
UltraFlex is a polyurethane membrane system with a high solids content (> 90%). It is designed for wet-on-wet application and is completely reinforced with UltraFlex Matting, a fibreglass matting with a density of 225 g/m2. UltraFlex has excellent bonding, tested on a wide range of surfaces, and actually eliminates the need for priming and consequently reduces costs and the time required for application (on-site membrane execution time).
When dealing with uneven or very absorbent surfaces, you can apply a thin layer of UltraFlex 24 hours before applying the two wet-on-wet coats. You can even try this option with TIXAL for some quite surprising results.
With UltraFlex, you can do everything, even out the surface, its absorption and bonding, with just one product; it even provides the first level of waterproofing.
Why is the matting necessary?
The use of UltraFlex Matting offers a lot of advantages. Firstly, it allows for wet-on-wet application, thereby eliminating any waiting between coats and reducing the on-site time. The matting also helps guarantee that UltraFlex is applied correctly and at the recommended minimum thickness (1.2 mm) to obtain unbeatable long-term waterproofing (> 25 years). It promotes crack bridging and minimises any surface roughness, thus strengthening the overall system against possible breakages. UltraFlex Matting helps mitigate any defects introduced when preparing the surface; and lastly, the multidirectional cross-linked fibres increase membrane strength in every direction, unlike veil or geotextile systems which only cover the horizontal and vertical.
A further benefit is that the matting is handled very easily, it adjusts perfectly to all surfaces and overlapping the frayed edge over the straight edge produces a continuous, uniform membrane without any ridges at the overlaps.
Do I need to complete a course before using the UltraFlex system?
The UltraFlex membrane's design means it is easily applied on-site. The process is very intuitive, and you can make adjustments if you go wrong or something unexpected happens on-site. We recommend reading the application guide in the UltraFlex technical file and watching the 4‑minute video we have prepared to help you (available in the Application section at www.ultra-flex.com or on YouTube). As always, you can learn some construction tips and methods; contact us and we can offer you all the training necessary to make you an expert.
Can I repair the membrane after it has cured?
Of course, that will be no problem at all. Clean the membrane with a neutral soap and some water, then dry with a cloth. Trim the area that needs repairing. Apply the materials as usual: apply a generous first coat of UltraFlex, place the UltraFlex Matting on top, exert some pressure with a roller to saturate the matting and finally apply the second coat. If you fray the edges of the UltraFlex Matting, once the membrane cures, you will hardly even notice the repair. Implement an overlap of about 15 cm.
Is UltraFlex compatible with bitumen sheets? PVC? Asphalt fabrics? Butyl? Metal? Wood? Asphalt? Boards? Tiles? Concrete? Metal plate? etc.
UltraFlex is compatible with most types of surface found on rooftops. The only two surfaces that could present difficulties are EPDM rubber and TPO. For roofs featuring either of these materials, we recommend applying a test patch and leaving it to cure for 4 to 7 days in order to check the compatibility.
How confident can I be that the membrane will be effective in the long run?
UltraFlex is a polyurethane liquid membrane system with a certified useful life of over 25 years and for use in roof gardens (European Technical Assessment [ETA] and British Board of Agreement [BBA] certificates). The UltraFlex membrane is also approved by the UK National House Building Council (NHBC) for both new constructions and rehabilitation work.